Similar in Spirit: Norse and Inuit Interactions – Abraham Anghik Ruben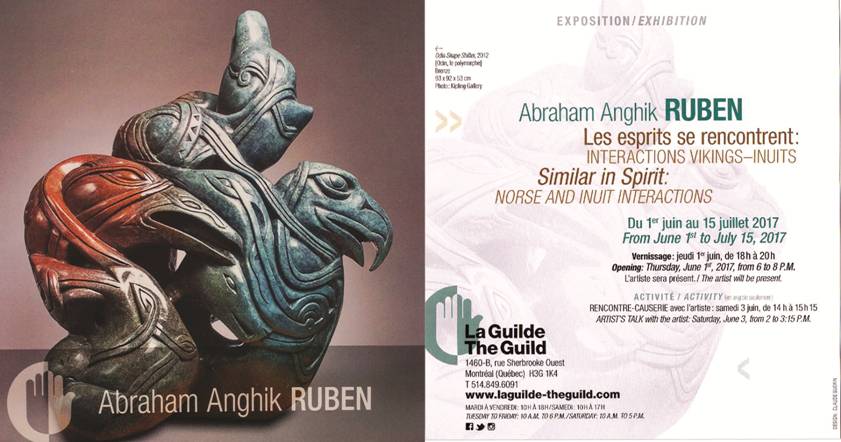 Vernissage – Opening Reception – ABRAHAM ANGHIK RUBEN
Thursday, June 1, 2017, from 6 to 8 P.M.


The Guild is proud to present, in the context of the MONTRÉAL FIRST PEOPLES FESTIVAL and in collaboration with LAND InSIGHTS, the most recent solo exhibition by Inuvialuit (Canadian Arctic region) master sculptor Abraham Anghik Ruben:  Similar in Spirit: Norse and Inuit Interactions. This exhibition, which will be held from June 1st to August 19, 2017 will be the first event of the season and will mark the launch of the festival. For the occasion, the artist will present fifteen sculptures. Each of the artworks shall be accompanied by a corresponding preparatory sketch, drawn by the artist. Awarded the Order of Canada in 2016, Abraham Anghik Ruben is recognized for his narrative works greatly inspired by myths and legends. He is inspired by various influences and his work mixes elements of Christian, Inuit, Northern and Western iconographies …… READ MORE
From June 1st to July 15, 2017 – EXTENDED UNTIL AUGUST 19, 2017
La Guilde
1460-B, Sherbrooke Street West
Montreal (Quebec) H3G 1K4
Tel: 514.849.6091
https://www.laguilde.com/abraham-anghik-ruben-en
Classe de maître – Master Class | Abraham Anghik Ruben
Are you a sculptor or aspiring to become one? Come and take advantage of the opportunity to listen to Abraham Anghik Ruben, a renowned and skilled sculptor, appointed Officer of the Order of Canada in 2016. He will share his personal experiences as well as the many steps taken to master his art.
Looking forward to seeing you there!
Friday, June 2, 2017, from 2:00 to 3:45 P.M.
La Guilde, Montréal
ADMISSION: 10$ (taxes incl.) – Free for The Guild's members
***Class in English only***
Rencontre-Causerie – Artist's Talk | Abraham Anghik Ruben
During this Artist's Talk, Abraham Anghik Ruben, recipient of the Order of Canada in 2016, will take you on a tour of his solo exhibition while throwing light on the significance underlying his magnificent sculptures. He will also share his elaborate creative processes.
Come one and all to join us in !
Saturday, June 3, 2017, from 2:00 to 3:15 P.M.
La Guilde, Montréal
ADMISSION: 5$ (taxes incl.) – Free for The Guild's members
***Artist's Talk in English only***
LA GUILDE | THE GUILD
1460-B, Sherbrooke Street West
Montreal (Quebec) H3G 1K4
Tel: 514.849.6091
Toll free: 1.866.477.6091
https://www.laguilde-theguild.com/