Arctic Journeys – Ancient Memories – Abraham Anghik Ruben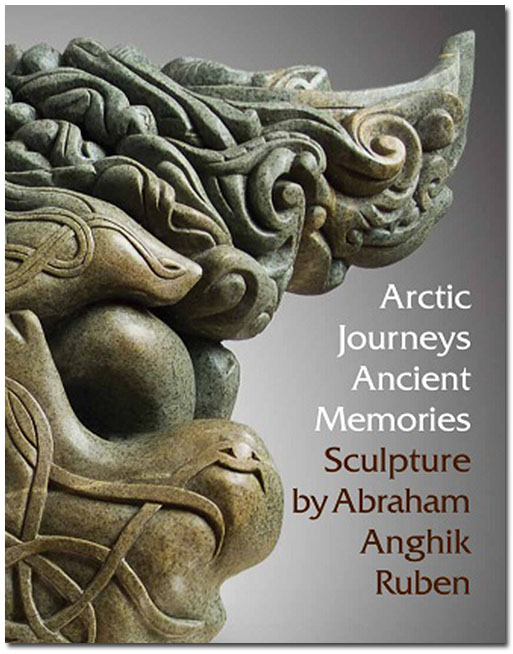 Arctic Journeys Ancient Memories:
Sculpture by Abraham Anghik Ruben
Essay by Bernadette Driscoll Engelstad
ISBN: 978-0-9816142-1-2
Softcover Book
2012, published by The Arctic Studies Center, National Museum of Natural History in association with Kipling Gallery
88 pages
PREFACE
AS THE DIRECTOR OF THE NATIONAL MUSEUM OF THE AMERICAN INDIAN, I frequently watch as exhibitions grow out of good ideas that gather energy as they are researched and discussed, written and organized and installed. It's a thrilling process, and the presentation of work by contemporary artists can be especially gratifying, because it often links our past with our present lives in particularly compelling ways. Such is the case of Arctic Journeys, Ancient Memories: Sculpture by Abraham Anghik Ruben.
Arctic Journeys, Ancient Memories features twenty-three pieces by this master sculptor, widely celebrated for his ability to tell us about deep histories in new ways. His massive, intricately carved narratives speak not only of Inuit prehistory and settlement but of Viking legends and forays into the New World. The results are astounding, not just in terms of their great beauty and craftsmanship, but also the dialogues they present about ancient and living northern cultures.
Kevin Gover
American Indian and a citizen of the Pawnee Nation of Oklahoma
Director
Smithsonian's National Museum of the American Indian, Washington, DC.